Latest research determined that average woman has 19 pairs of shoes in her closet!!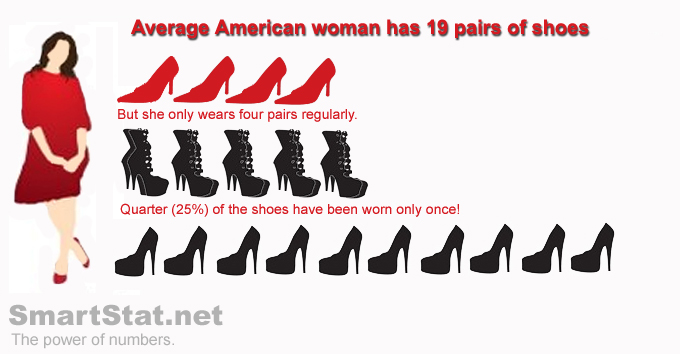 Researches have found out that average American woman owns 19 pairs of shoes. But they only wear four pairs regularly. And 15 percent of women have more that 30 pairs of shoes.
The survey also found that 43 percent of women saying they had been at least moderately injured by shoes. That is every second woman! Every ninth woman reporting serious injuries or breaks from wearing some shoes. Women love their shoes and they are ready to sacrifice for a beauty and sometimes to hide their purchases a significant other.  On average every woman is buying four pairs of shoes a year with 13 percent admitting to hiding a purchase from their partner. Six out of 10 women regret at least one shoe purchase and on average women have worn a quarter of their shoes only once.
But Internet shoe shopping has not yet caught on with clothing virtual shopping, the most often purchased item online by women, only 14 percent of women buying shoes online.
Leave a comment, how many pairs of shoes do YOU have?